Monday, May 30, 2005
TOTALLY GEEKING OUT
How Lightsabers work
The "Using Your Lightsaber around the Home" section is hysterical. Thanks to
Zarah
for the link.
Sunday, May 29, 2005

VERBATIM

"My mission is to beat those bands out of town, you know. I love U2 and Radiohead more than you could possibly imagine. But I don't fear any other band. When the world ends in 200 years, it'd be nice to be like, ''Oh yeah, and the best band were Coldplay.'' Unless you have that ambition, there's no point in really carrying on. It doesn't mean that we think we've got there or we will get there, but we're always trying. We're applying for that job that they applied for, as well."

- Coldplay's Chris Martin


SILENTSANCT GIG REPORT: HARD ROCK CAFE (MOS EISLEY NIGHT)
Last friday May 27, Silent Sanctuary was invited by Adrian Arcega (of Star Wars Philippines and
Purplechickens
fame) to play the
Mos Eisley
Star Wars fan convention. It was held at Hard Rock Cafe, and since we had never played there before, we were pretty psyched.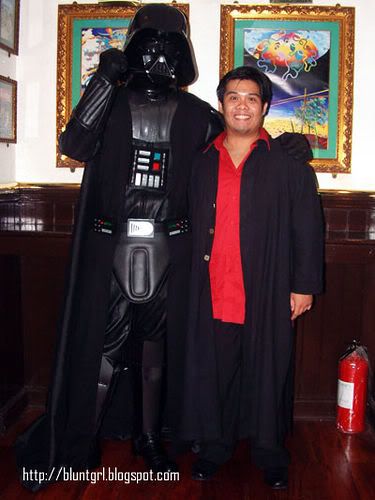 You can't have a fan convention without costumes, and there were plenty of them in attendance, since people who came in costume had free entrance to the event. It wasn't limited to Star Wars fans either; there were people dressed as characters from
Harry Potter
(students, Quidditch players) and
Lord of the Rings
(Gandalf)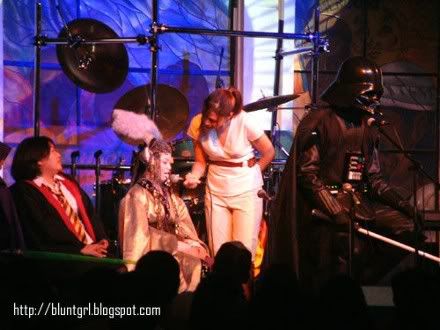 The most impressive costumes of the night was the Darth Vader costume(top) which was faithfully accurate. The fact that the person underneath wearing it was at least 6 feet tall also went a long way towards making the Sith Lord awfully convincing. Vader went on to be a searchee in the Star Wars Dating game (above) where he picked from Queen Amidala, a Hogwarts student and a Jedi master. Anakin Skywalker eventually picked the Jedi Master, and he invited her to
"go back to the Death Star where he could demonstrate to her what he could do with his lightsaber"
(his words, not mine)
Tying for best costume of the night was Ultimate Fanboy Fantasy Slave Girl Leia (from Return of the Jedi) with the gold bikini, complete with chain. It was so impressive that practically ALL of the band rushed to look at the costume when they heard of it to examine its'...... craftsmanship.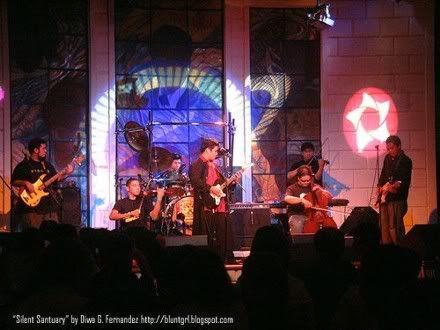 We performed 2 songs;
Ingat Ka
, and a cover specially requested by Adrian: the combined themes of
Angel
and
Buffy the Vampire Slayer.
I'm happy to say that both numbers came off very well and we were well-received by the crowd. The Joss Whedon pieces were too much fun to play for us to shelve them, so we'll probably be using those pieces for sound check in the future (something to watch out for in gigs!)
Other pics: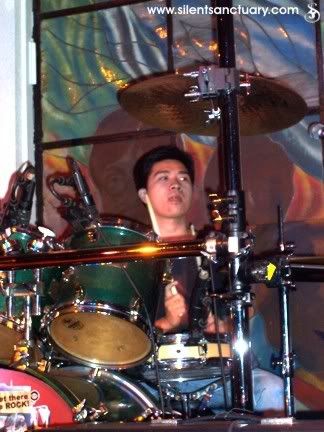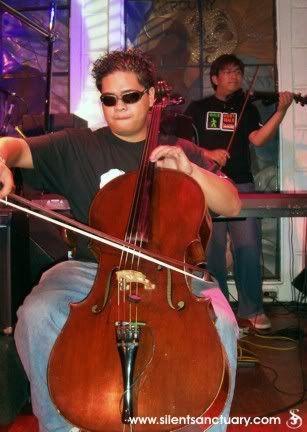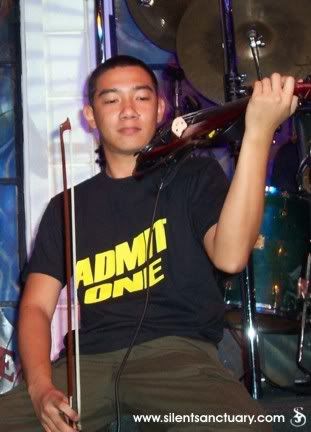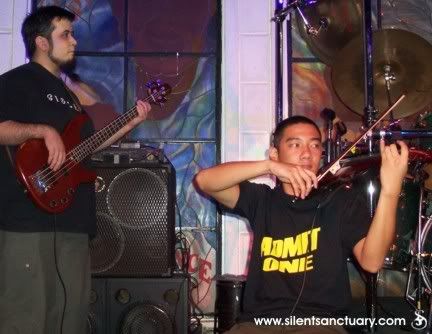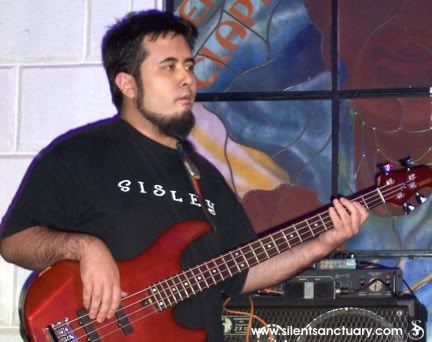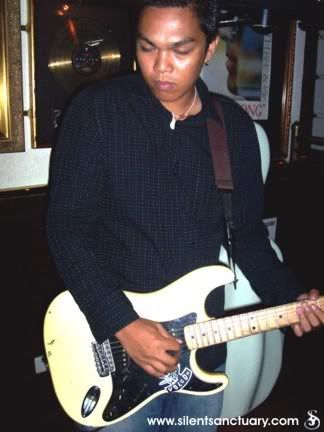 All in all, a fun, albeit short gig. We would love to play there again in the future.
Friday, May 27, 2005


VERBATIM

"When you're singing to a roomful of people, There will be maybe 25 people there who are just looking to be entertained; and there will be one person looking at you, just waiting for you to touch them with your singing. Sing to that person."

- Marian Cabahug, my vocal coach


Tuesday, May 24, 2005

WALA LANG

Hmmmmmmmm..........



Friday, May 20, 2005

BLAST FROM THE PAST

PEACE IN ME
Ian Carandang

&nbsp I
Baby it's all right
I'll be fine you see
Done my share of getting drunk
leaned-on shoulders and of crying all my tears

Maybe this is how
It's supposed to feel
When you've loved someone to the point of no return
'Cause I've never felt emotions quite this real

&nbsp [Chorus I]
And I am not bitter
That you turned me down
You aren't obligated
To return the love I offered back to me
Moving on feels so sweet
Now that I let you go and found my peace in me
Found my peace in me

&nbsp II
Yes I will admit
That I have been burned
But what I have lost is far
Outweighed by all the things that I have learned

Just another part in my
Journey to complete
From the person that I am right now
To the person that I know I'm going to be

&nbsp [Chorus II]
And I am not jaded
I've looked into myself and I have found
It's not that complicated
It's simply that we weren't meant to be
The one at fault was neither you nor me
And accepting that's what finally set me free
Finally set me free

&nbsp [Bridge]
And I want you to know
I'm filled with love, love that transcends
Still as deep but changed
From intimates into friends
Used to wonder how I'd find
Out it was real or true at all
Now I know what it's like
Because I've already, already fallen
And I can say

&nbsp [Refrain III]
That I am not bitter
That you turned me down
And I am not jaded
I've looked into myself and I have found
It's not that complicated
It's simply that we weren't meant to be
And you aren't obligated
To return the love I offered back to me
The one at fault was neither you nor me
Accepting that's what finally set me free
Now that I let you go and found my peace in me
Found my peace in me

And it feels so sweet.


Wednesday, May 18, 2005
PASS...PASS....PASS...
Got this one from
Oliver
. Seeing as I have something I have to do, naturally my blogging instinct has become alive again. Go figure.
Total number of films I own on DVD/video:
Hmmm. A LOT. Defintely more than 30. If you include TV series (which I collect more of, strangely enough) than number easily doubles. Thing is, I buy a lot more discs than I actually watch. The entire series of
Buffy
sits in my room, unwatched. It's always "when I have time... when I have time..." Even in my escapism, I procrastinate.
The last film I bought:
Ali G In Da House
Freaking HYSTERICAL movie. I heartily recommend it to anyone who loves brilliantly-dumb comedy (which is different from just PLAIN dumb comedy, trust me, there's a fine line) If you're familiar with the brilliance that is Ali G, I wholeheartedly recommend this. And if you aren't, I suggest
familiarizing yourself
with him, posthaste.
The last film I watched:
Be Cool
on DVD it was a disappointment at the box office, but actually a smart little ensemble movie. Syempre I watched it for The Rock. My only criticism would be that the "star" they has for the story was nowhere near as impressive as the movie would have you believe.
Films that I watch a lot or mean a lot to me: Kill Bill Vol. 1
- this is one film I literally never get tired of seeing over and over again. Anime and hyperviolence and beauty and amazing character design all come together for one of my favorite movies ever. Can watch it over and over again, a crack and candy and great sex rolled into one, in movie form.
Eternal Sunshine of the Spotless Mind
- Like what everyone else has said about this little piece of brillliance: If you've ever been in love, or more importantly, fallen OUT of it, this film will hit you where it hurts.
Spaceballs
- "Prepare the ship for....
Ludicrous speed!!!
"
Disney's Beauty and the Beast
- there have been bigger blockbusters from Disney (when they were still relevant) but this was the one with the most
heart
. The subtle motions of the animated characters were as poignant as any flesh-and-blood thespian.
Ninja Scrolls
- Quite simply, the best anime ever made.
The Iron Giant
- One of the best animated films out there, loved the fact that is was NOT Disney-fied (as in, with cute mascots & singing and dancing). I have a soft spot for giant robots, and that it was an intelligent and brilliant and heartfelt movie also didn't hurt. That is bombed in the box office is proof that Americans can be idiots. Fortunately, they redeemed themselves with...
The Incredibles
- from the same director (Brad Bird) it tackles another one of my childhood obsessions. The best movie about superheroes bar none.
I really should be getting back to work.
Q&A
Got this from
Nikka
. Since I haven't really been in a blogging mood lately (as the sparseness of posts will attest)
01. Reply with your name and I will write something I like about you.
02. I will then tell what song/movie/icon reminds me of you.
03. If I were to apply an o'clock to you, it would be...
04. I will try to name a single word that best describes you.
05. I'll tell you the most memorable moment I've had with you.
06. I will tell you what animal you remind me of.
07. I'll then tell you something that I've always wondered about you.
08. Put this in your journal.
this way, anyone who replies will commit me to writing something about them in their very own blog post. (aha!)
Sunday, May 15, 2005

Drive-Bye

ang layo ng pinagdaanan ko para makaabot dito
kung saan kita unang hinagkan sa ilalim ng buwan
at saan tayo huling naghiwalay na di na pwedeng pag-usapan
sobrang tagal ko na dito at kelangan ko nang umalis
iiwanan na kita ha

kaya paalam na lang.



Drive-Bye

I have travelled a long way to get here
to the place where we first kissed under the stars
the place where we saw each other for the last time
I've stayed here long enough
It's time for me to go

So I'll just say goodbye.


Wednesday, May 11, 2005

FRIENDSTER JOINT HOROSCOPE

You and ***** can overcome any bumps on the road.

"Evolution makes you pay attention to certain things that you had been taking for granted. So if one (or both) of you is making an effort to grow into a new, better version of what you once were, take a moment to honor that. If it turns out that the two of you are on a similar path of growth and exploration, why not join forces? The road to enlightenment can be long and arduous, and it's always nice to have a companion along for the ride -- along with plenty of snacks."

Hmmmmmmmmmm..........

I've never really paid much attention to horoscopes, but this one is oddly prescient. Perhaps it's just a coincidence.

A few more on-the-mark readings like this and I'll have to rethink my stance on astrology.


Sunday, May 01, 2005

&nbsp&nbsp&nbsp LOVERS IN A DANGEROUS TIME
&nbsp &nbsp&nbspBarenaked Ladies

&nbsp &nbsp &nbspDon't the hours grow shorter as the days go by
&nbsp &nbsp &nbspYou never get to stop and open our eyes
&nbsp &nbsp &nbspOne minute you're waiting for the sky to fall
&nbsp &nbsp &nbspThe next you're dazzled by the beauty of it all

&nbsp &nbsp &nbspLovers in a dangerous time

&nbsp &nbsp &nbspThese fragile bodies of touch and taste
&nbsp &nbsp &nbspThis fragrant skin this hair like lace
&nbsp &nbsp &nbspSpirits open to the thrust of grace
&nbsp &nbsp &nbspNever a breath you can afford to waste

&nbsp &nbsp &nbspLovers in a dangerous time

When you're lovers in a dangerous time
Sometimes you're made to feel as if your love's a crime
Nothing worth having comes without some kind of fight
Got to kick at the darkness 'til it bleeds daylight

&nbsp &nbsp &nbspWhen you're lovers in a dangerous time

&nbsp &nbsp &nbspWe were lovers in a dangerous time.