Sunday, February 27, 2005
VERBATIM
"If you can't be a good loser, you can't be a good winner. If you can't take the criticism, then you don't deserve the praise."
- Halle Berry, accepting her Razzie for mega stinker
Catwoman
**********************************************
From
EW.com
:
RAZZ BERRY
Now in its 25th year, the
Golden Raspberry
ceremony is typically held the day before the Oscars to recognize the year's worst film work, so it's no surprise that the winners almost never show up to collect their trophies. Which is why the audience at Saturday's ceremony, held at Hollywood's Ivar Theater, were stunned to see recent Oscar winner Halle Berry appear in person to collect her Razzie for Worst Actress for Catwoman, a movie that also won Worst Picture, Worst Director (single-monikered Frenchman Pitof) and Worst Screenplay.
"Thank you so much. I never in my life thought I would be up here,"
Berry said, according to People.
"It's not like I ever aspired to be here,"
she said, parodying her emotional speech from three years ago when she won a Best Actress Academy Award for Monster's Ball. Clutching her trophy, she told the cheering Razzie crowd
"I have so many people to thank, because you don't win a Razzie without a lot of help from others."
Those included
"Warner Bros., for putting me in a godawful piece of shit movie"
; Pitof, whose instructions she said she couldn't understand; her manager, whom she dragged onto the Razzie stage, saying,
"Next time, read the script"
and her costars, because
"In order to give a really rotten performance like I did, you have to have a lot of terrible actors around you."
Explaining her good-sport appearance ... She recalled trying to be gracious when, as a young woman, she lost a beauty pageant to another woman,
"But all I wanted to do was fucking beat the shit out of her."
She called her Razzie victory
"A lesson learned, and I hope to God I never have to see these people again."
**********************************************
Classy, classy woman. She showed a lot of grace (and a good sense of humor) by showing up for that. Hopefully this gets her some good karma. Anyone who knows her life history will know that despite being a movie star and one of the most beautiful women on the planet, she has actually had more bad luck than most people.
I may watch
Catwoman
on DVD just for that.
Friday, February 25, 2005

Love Song For No One
John Mayer

Staying home alone on a Friday
Flat on the floor looking back
On old love
Or lack thereof
After all the crushes are faded
And all my wishful thinking was wrong
I'm jaded
I hate it

I'm tired of being alone
So hurry up and get here
So tired of being alone
So hurry up and get here

Searching all my days just to find you
I'm not sure who I'm looking for
I'll know it
When I see you
Until then, I'll hide in my bedroom
Staying up all night just to write
A love song for no one

I'm tired of being alone
So hurry up and get here
So tired of being alone
So hurry up and get here

I could have met you in a sandbox
I could have passed you on the sidewalk
Could I have missed my chance
And watched you walk away?

I'm tired of being alone
So hurry up and get here
So tired of being alone
So hurry up and get here
You'll be so good

You'll be so good for me.


Monday, February 21, 2005
Friday, February 18, 2005

KRAS

kung alam mo lang

ang nais kong gawin sa iyo

kung alam mo lang

matutuwa ka ba o magugulo?




THE WEAKNESS IN ME
Joan Armatrading

I'm not the sort of person who falls in and quickly out of love

But to you, I give my affection, right from the start.

I have a lover who loves me - how could I break such a heart?

Yet still you get my attention.

Why do you come here, when you know I've got troubles enough?

Why do you call me, when you know I can't answer the phone?

And make me lie when I don't want to,

And make someone else some kind of an unknowing fool?

Make me stay when I should not?

Are you so strong, or is all the weakness in me?

Why do you come here, and pretend to be just passing by?

I need to see you - I need to hold you - tightly.

Feeling guilty,

And I'm worried, and I'm waking from a tormented sleep

'Cause this old love, you know it has me bound,

But this new love cuts so deep.

If I choose now, I'm bound to lose out;

One of you is gonna have to fall...

I need you, baby.

Why do you come here, when you know I've got troubles enough?

Why do you call me, when you know I can't answer the phone?

And make me lie when I don't want to,

And make someone else some kind of an unknowing fool?

Make me stay when I should not?

Are you so strong, or is all the weakness in me?

Why do you come here, and pretend to be just passing by?

I need to see you - I need to hold you - tightly.

***********************************************

Thanks to

Nic

for introducing me to this achingly beautiful song.

PENGUIN UPDATE: WE'RE HERE, WE'RE QUEER, GET USED TO IT

This is starting to get a little bit ridiculous, but at least it has a happy ending:

Advocate.com: German penguins can stay gay

A German zoo has abandoned a plan to break up gay penguin couples after protests from gay rights groups, reports Australia's The Age newspaper. The Bremerhaven Zoo in northern Germany had earlier flown in four female Humboldt penguins in an attempt to encourage three all-male couples to reproduce. The zoo originally defended the experiment on the grounds that the birds were an endangered species. But after protests from gay rights groups, director Heike Kueck said the zoo was abandoning the plan. "Everyone can live here as they please," Kueck told The Age.

She said it was not her intention, nor was it possible, to separate the gay couples by force and interest them in their new female companions. She added that the gay penguins had shown little interest in the females, but this could have been because the program was started too late in the year. Gay groups had protested against "the organized and forced harassment through female seductresses" in an open letter to Bremerhaven mayor Joerg Schulz and called on him to stop the program.

According to The Age, zoo keepers discovered that the homosexual couples had gathered rocks that they coveted like eggs and fooled their keepers for years into thinking they were boy-and-girl duos. The zoo came up with the idea of trying to convert the males by flying in some exotic birds from Scandinavia. But the boys haven't exactly been fighting for a slice of the female action. On the contrary, they have shown their suitors the cold shoulder. "The relationships were obviously too serious," Kueck said of the same-sex penguin couples. Instead of flirting with the opposite sex, they seemed to prefer sitting on the stones, which substitute for the eggs they will never be able to lay.

The zoo, which promotes itself with the slogan "encounters of a special kind," initially wanted to wait until spring 2006 to see if their international matchmaking efforts spawned results. Now the gay penguins are being allowed to live the way they want. As for the Swedish females, new male penguins have been brought in to attend to their heterosexual needs.


GIG REPORT: DLSU

Earlier this evening Silent Sanctuary had a small, semi-unplugged gig at DLSU fot the College of Liberal Arts. We were limited to just three songs, but the upside was that we were the "main" band of the night.

We sounded awesome. I loved the sound system, which let me hear everything loud and clear, and my voice was able to carry over all the instruments even at a low modulation. Without having to worry about projecting to make myself heard over everyone else, I could concentrate on sounding good. And sound good I did. Even hard-to-please Anjo remarked that I sounded really good tonight. I am my biggest critic, and tonight I was nothing but pleased with my performance.

But even that was nothing compared to the news I got later that night...



SILENT SANCTUARY IS GOING TO PLAY TONIGHT AT THE UP FAIR!!!!!!



WAAHOOOOOOOOOOOOOOOOOOOOOO!!!!!!!!!!!!!!! This is, without exaggerration, one of THE major goals I had as a musician. And I finally get to fulfill that dream tonight. Anyone who wants to catch us, or is planning to go to the UP fair tonight (saturday) feel free to say hi if you run into me.

I love my life.


Wednesday, February 16, 2005
VERBATIM
"A woman has got to love a bad man once or twice in her life, to be thankful for a good one."
-- Marjorie Kinnan Rawlings from
Something More
by Sarah Ban Breathnach
*************************************
thanks to
Therese
for this wonderful quote.
Monday, February 14, 2005

VERBATIM

"Rituals are important. Nowadays it's hip not to be married. I'm not interested in being hip."

- John Lennon


YOU JUST KNOW THEY'RE THE BEST-DRESSED PENGUINS THERE
This story is just too cute:
Daily Times: German zoo tempts gay penguins to go straight
A German zoo has imported four female penguins from Sweden in an effort to tempt its gay penguins to go straight.
The four Swedish females were dispatched to the Bremerhaven Zoo in Bremen after it was found that three of the zoo's five penguin pairs were homosexual. Keepers at the zoo ordered DNA tests to be carried out on the penguins after they had been mating for years without producing any chicks. It was only then they realised that six of the birds were living in homosexual partnerships. Director Heike Kueck said that the zoo hoped to see some baby penguins in the coming months.
She said that the birds had been mating for years and one couple even adopted a stone that they protected like an egg. Kueck said that the project has the support of the European Endangered Species Programme because the penguins, which are native to South America, are an endangered species.
A biologist will be on hand to monitor the experiment. But introducing the Bremerhaven penguins to their new Swedish friends may not be as successful as hoped after earlier experiments revealed great difficulties in separating homosexual couples.
In case they show no interest, the zoo has also flown in two new male penguins "so that the ladies don't miss out altogether", Kueck added. ananova
************************************************
"Introducing females to tempt the gay penguins"?
Feh. That sounds way, way too familiar to the well-meaning-but-don't-realize-how-offensive-they-actually-are acquaintances of mine who, upon learning of my orientation, urge me to
"try"
having sex with a woman because, hello,
"you might like it!"
(And can I just say how hilarious I found it that it had to be
swedish
female penguins? Like, if they were human, they would have been hot buxom, blonde blue-eyed women with sexy accents. Way to stack the deck there, fellas...)
My response to these Zoo-meddlers is the same one I give to those people: The fabulous penguins are open to try shacking up with the girl-penguins; But said meddlers must ALSO "try" experiencing the sweet pleasures of man-on-man love as well. Fair's fair, baby. Pustahan ko those gay penguins turn just make these swedish penguins into their Fag hags.
Hooray to the penguins for exhibiting hardcore monogamy, plus family instincts as well, woot! I know of a couple of my gay brethren from the human species who could stand to learn a lesson from these birds.
UPDATE: As expected, the attempted de-gaying was a complete failure. Thanks to the fabulous and wonderful Jason for the link. You rock, pare! ;)

We were just an empty dream too big for hope alone to fill
Holding out for change I know we never stood a chance
So I could only wait and watch you slip right through my hands.

- Indigo Girls, "Hope Alone"


Thursday, February 10, 2005


HMMMMM....

You may have noticed I've had a flurry of postings on my blog lately. That's mainly because I've been using this blog as a means to put off practicing guitar and polishing the song I've been working on. It seems that left to my own devices, I can let this blog lie for up to a week, but if I have something else that needs doing, that's when the juices flow.

I am at my most productive in a certain field when putting off a task that needs to be done in another. So the key to finishing my song then, to saddle myself with a task that will make me run to the guitar so I can put THAT off.

If I could find a way to make all my procrastinating play off each other, like a veritable pyramid scheme of activity, I'd be an unstoppable machine of prolificacy.



NOT THAT IT WASN'T ANYTHING WE DIDN'T ALREADY KNOW
Got this off
Mark Evanier's
blog
This is from
Justice League of America #44
, published in 1966. There it is -- written by Gardner Fox, drawn by Mike Sekowsky, with inks by Joe Giella and Frank Giacoia.
I have to believe Fox was chuckling when he wrote it and, knowing Mike, he probably had to be restrained from drawing Batman playing Judy Garland records with a limp wrist. In one issue of Justice League of America in the sixties, the heroes discover they have contracted a cosmic plague that will doom everyone they've recently touched:
*************************************
Hahahahahahahahahahahahahahahaha!!!!
There it is, proof positive from DC comics themselves. Batman & Robin shared the love that dare not speak its' name. Years of endless debate and conjecture can be finally put to rest.

AMERICAN IDOL: BEAR WATCH UPDATE

Last night, myster bear (who finally has a name, Matthew Meyers) fell to the group auditions. Apparently he had a gimmick (heretofore unrevealed until now) that he sings while clutching his son's teddy bear. He was paired together with a black fellow named danny and the freaky Scott Savol, who exhibited a surprsing display of creepiness and general unlikeability.

This surprised me, and puts a major handicap on his chances to succeed. For him to go further, it is absolutely CRUCIAL for him to be likeable to make up for his looks and to get people to root for him. As it is, he's an ugly AND creepy looking fellow who can't seem to stand still (mild autism?) and has poor social skills.

You want an example of likeability? Jamie Koehler (Now apparently known as "J.P.") got through his group audition despite forgetting pretty much his ENTIRE set of lyrics and almost falling to pieces onstage. Yet miraculously, all three of them made it through. Why? Likeability. The judges clearly loved them, and wanted to give them one last chance. Looking at the three of them, you could see that they all had that type of X-Factor of good looks AND that you wanted to root for them. The three of them together would make for a pretty interesting boy band, if boy bands were still in vogue, that is.

Jamie --excuse me, JP -- Koehler is growing on me. After being granted that reprieve he fell apart and burst into tears all the way backstage, he was so humble and gracious and so happy to still be there. Seeing him cry made me wish that I could reach back in time and into the TV screen simultaneously so I could console him with a batch of chocolate chip cookies with walnuts and warm milk, followed by a full-body massage with scented oils afterwards.

I tell you, the man is growing on me and becoming more and more attractive the same way you have a guy friend you think is somewhat cute but you don't see yourself going out with them, but then you spend time with them and get to know them and see how they smile and how they carry themselves and have a good heart and you find yourself falling for him.

Yeah. Just like that, you know? ;)


Wednesday, February 09, 2005
FOR AMAZING RACE FANS ONLY!
Got this from
USAtoday.com
. This article talked about some of the upcoming teams for
Amazing Race 7
(starts this March) and the BIGGER news, which is a MAJOR format change for Amazing Race 8. How major? Try FOUR PERSON teams:
The eighth season of The Amazing Race, which is due next fall, will be a family affair.
In its biggest wrinkle yet, the show will pit fewer, but larger, four-member teams of relatives. But not just Mom, Dad and two kids: Applicant teams can consist of siblings, three-generation families, even engaged couples with one set of parents.
"We're really looking for strong back stories," such as an estranged but newly reunited family, host Phil Keoghan says.
All racers must be 12 or older; at least one per team must be 21 or older. Race 8 will be filmed this summer, during school vacation.
"Putting families out there in this format will bring a completely different dynamic" says Keoghan, who will begin a cross-country casting call in early spring (applications at www.cbs.com).
A ninth season, which returns to the original format, is scheduled for early 2006.
***********************************
I'm okay with this, seeing as it isn't a permanent change. It'll be interesting to see the types of team dynamics with four people instead of two. I'd be more worried if I were the cameraman tasked to keep all of them together though.
And as for Amazing Race 7, here is the lowdown on some of the teams slated to be there:
• Amber Brkich and Rob Mariano
the winner and cunning runner-up of Survivor: All-Stars, who will be married in April.
• Ron Young,
a former POW in Iraq whose helicopter was shot down, and
Kelly McCorkle
, a former Miss South Carolina beauty pageant queen.
• Susan and Patrick Vaughn
, the first mother/son team. She's a starchy college law professor; he's a gay writer in Hollywood who seeks her acceptance.
• Uchenna and Joyce Agu
, formerly bankrupt and unemployed, casualties of corporate scandals: He lost his job at Enron; she was laid off by Worldcom.
• Married couple
Meredith and Gretchen Smith
, retirees who, at 69 and 66, respectively, are Race's all-time oldest team.
And the happiest news of all:
• Lynn and Alex
, boyfriends from West Hollywood who have been together for four years. Might I add that Lynn is a TOTAL cutie. *swoon*
Some more thoughts: after checking up on the full teams on
the official site
I notice the return of alpha-male (2 fairly well-built males) teams. 5 & 6 were handicapped somewhat with back-to-back less-than-physically-fit teams (Marshal & Lance, Avi & Joe), so it will be interesting to see if the reason the coed teams won was because of that.
So glad that they finally brought back the gay in Race (how I missed thee!). Up until Amazing Race 4, Gays were always well represented in this show. And the mother-son pairing is a long-overdue setup. And aside from those guys, if you watched the Preview for AR7 which showed at the tail end of the AR6 Finale, you'll notice a pair of bearish hunky men as a team. Yay! I have Eye candy again!! *squeals*
God, I love this show so much.

"Well there was a time when you let me know
What's really going on below
But now you never show that to me do ya
But remember when I moved in you
And the holy dove was moving too
And every breath we drew was Hallelujah"

- Jeff Buckley, "Hallelujah"



COIN-OPERATED BOY
Dresden Dolls

coin operated boy
sitting on the shelf he is just a toy
but i turn him on and he comes to life
automatic joy
that is why i want a coin operated boy

made of plastic and elastic
he is rugged and long-lasting
who could ever ever ask for more
love without complications galore
many shapes and weights to choose from
i will never leave my bedroom
i will never cry at night again
wrap my arms around him and pretend....

coin operated boy
all the other real ones that i destroy
cannot hold a candle to my new boy and i'll
never let him go and i'll never be alone
not with my coin operated boy......

this bridge was written to make you feel smittener
with my sad picture of girl getting bitterer
can you extract me from my plastic fantasy
i didnt think so but im still convinceable
will you persist even after i bet you
a billion dollars that i'll never love you
will you persist even after i kiss you
goodbye for the last time
will you keep on trying to prove it?
i'm dying to lose it...
i want it
i want you
i want a coin operated boy.

and if i had a star to wish on
for my life i cant imagine
any flesh and blood could be his match
i can even take him in the bath

coin operated boy
he may not be real experienced with girls
but i know he feels like a boy should feel
isnt that the point that is why i want a
coin operated boy
with his pretty coin operated voice
saying that he loves me that hes thinking of me
straight and to the point
that is why i want

a coin operated boy.


DAMMIT!!
SPOILER WARNING: this rant contains details about the Amazing Race finale and tonight's episode of American Idol. If you don't wish to be spoiled, click back now....
Kris and Jon falter at the final leg of Amazing Race by not fully following up on which Airline (United or American Air) was the better flight. That resulted in a crucial ten-minute lead for Freddy & Kendra which was, at this stage of the race, all that they needed to win. It kills me to say it, but Freddy & Kendra ran the better race in this final episode.
The thing that is simultaneously great and frustrating about Amazing Race is that apart from the Yield (which I hate) winning has little to do with how unpopular or well-liked you are. The best racer wins, period. In fact, the show has been historically unkind to the fan favorite teams; the arugably most popular team winning only occured in season 5 (Chip & Kim).
Freddy was all right, it was Kendra and her
"they keep breeding and breeding"
comments (referring to the populace of Africa) which earned her my eternal contempt. I really, really wanted to see Kris and Jon win, and it was heartwrenching to see them come so agonizingly close, but I'm not sure if them coming in a distant third would have been any better either. They ran a great race, and I should be happy for that, I guess.
And on American Idol, my future husband
Michael Liuzza
, he of the unique voice and cuddly manboobs and beautiful smile got cut in the very first round of Hollywood auditions. He warbled his way through "Unforgettable" which, while still in his unique style, was iffy at best. I really, really wanted to like it, and I think he did well all things considered, but it really showed that he was limited as far as versatility went, which is what this competition demands. I had doubts about his making it, and sure enough, the judges cut him. Just when he was starting to dress better too. Ah well, Michael. At least we'll always have New Orleans. And the taped episode where you first appeared.
To drive home the point,
Scott Savol
who looks, to be blunt, downright fugly, sang like an angel. Unlike Michael which I had to ask myself several times if it was good or not, I KNEW this guy kicked the song's ass. I'm rooting for him actually.
All is not lost however, as
Jamie Koehler
, the jolly apple-cheeked San Fransisco crooner who is very chubby, very cute, AND very gay, has advanced. So I still have my eye candy.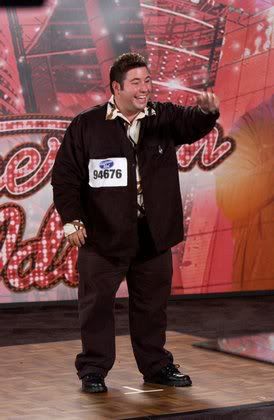 Cuddly Crooner Jamie Koehler
Plus, this yummy fellow who the evil, evil producers have chosen not to give us any info about yet: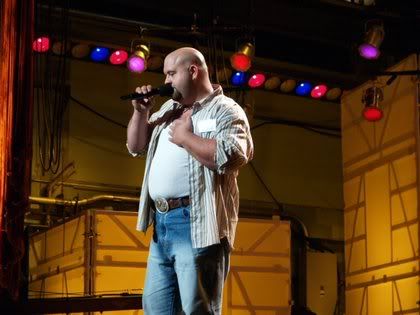 My mystery singing Bear, will you ever have a name?
Come on, you just HAD to wonder what kind of reaction the judges had when this guy came in the door, and what kind of voice he had for him to go through. Neither of them are as hot as Michael Liuzza, but we all have to make do.
Hmmmmmm......... originally, I was going to end this rant by bitching about how lousy this day has been, reality TV-wise. But after posting those links about Jamie Koehler and Mystery Bear, I realized that I still have a lot to live for and that life is still sweet. My mood has actually lifted since I started this rant. I feel GREAT!
Never underestimate the power of a cute bear to lift one's mood. Tee hee!
GIG! SKED!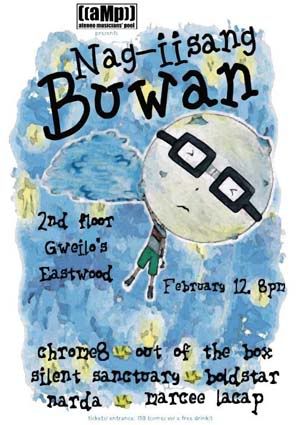 Celebrate your Valentine's Day early with Silentsanct on saturday, the 12th of feb! At 4pm we'll be in
St Scholastica's College Manila
, and at 10pm we'll be in
Gweilo's
at Eastwood Libis (the former Amoeba Bar) for
AMP's Nag-iisang buwan
!
Plus, on wednesday, February 16, Silentsanct will be at
Freedom Bar
for another edition of
Bluewatch Productions
. Other bands to be announced.
Hope to see some of you at either venue. If you go there via this blog, don't hesitate to introduce yourselves to me. I don't bite. Hard. =)
Monday, February 07, 2005

PEEP! PEEP! PEEP! *SNAP* PEEP! PEEP! PEEP! *SNAP*...

As I was walking in Robinsons's Galleria earlier today, I came across a specialty Balut stand which sold, apart from their titular product, "Deep-fried day old chicks". Presumably, the little chicks were killed by breaking their necks, which would be the quickest and simplest way to dispatch the chicks on a large scale.

It was a little bit disconcerting to look at, entire little chicks stripped of their fluff skewered on a stick and deep fried to a crimson red. But what bothered me more was that meant that somewhere out there, there is a person who's sole job is doing nothing but breaking the necks of little chicks all day.

The thought of it made me shudder.


Sunday, February 06, 2005

VERBATIM

"One does not laugh because one is happy; one is happy because one laughs.''

&nbsp&nbsp&nbsp&nbsp - Mireille Guiliano



SILENTSANCT SIGHTING

According to our drummer Allen, our song Talagang Ganyan was played earlier this afternoon on ABS-CBN on Star Circle Quest Reloaded.

I'm pretty sure that there are royalty and permission issues involved with them playing the song without our knowledge, but am too stoked to care right now.

Asteeeeeg. hehe.


Saturday, February 05, 2005
I HEART NEW YORK
From
The Advocate.com
:
New York court rules in favor of same-sex marriage
A Manhattan judge declared Friday that a New York state law that forbids same-sex marriage is unconstitutional--a first-of-its-kind ruling in the state that if upheld on appeal would allow gay couples to wed. State supreme court justice Doris Ling-Cohan ruled in favor of five same-sex couples who had filed a lawsuit after being denied marriage licenses by a New York City clerk.
The couples, who have been together for periods ranging from three years to 23 years, brought the suit arguing that they had been denied due process and legal protections available to heterosexuals. The judge agreed and said a clerk may not deny a license to any couple solely because the two are of the same sex. "Under both the federal and New York state constitutions, it is beyond question that the right to liberty, and the concomitant right to privacy, extend to protect marriage," Ling-Cohan wrote in a 62-page decision.
But the judge also stayed her ruling, which applies only in the city, for 30 days. The city law department issued a statement saying only, "We are reviewing the decision thoroughly and considering our options." Ling-Cohan ordered a copy of her decision sent to the state attorney general, who was not involved in the case. Calls to Atty. Gen. Eliot Spitzer's office were not immediately returned. The ruling could apply statewide if upheld by the court of appeals in Albany.
Susan Sommer, a Lambda Legal attorney who presented the case for the five couples, called the ruling "historic" and said it "delivers the state constitution's promise of equality to all New Yorkers.... The court recognized that unless gay people can marry, they are not being treated equally under the law. Same-sex couples need the protections and security marriage provides, and this ruling says they're entitled to get them the same way straight couples do."
One couple, Mary Jo Kennedy and Jo-Ann Shain, said they were very happy about the ruling and believed it would offer their family increased legal protection. They have been together 23 years, have been registered as domestic partners since 1993, and have a 15-year-old daughter, who is Shain's biological child. "We're just overjoyed," said Shain. "We didn't think it would ever happen." Kennedy said she wants to marry Shain as soon as possible. "I can't wait," she said. "We went to buy a [marriage] license in March 2004 and couldn't get it. That's what started this whole thing." Shain added, "We're looking forward to trying to buy another one and this time actually getting it."
In her ruling, Ling-Cohan said that while the Domestic Relations Law does not "expressly" ban same-sex marriage, specific sections clearly express the legislature's assumption that the parties to a marriage will be a man and a woman. Because this assumption has provided the basis for blocking same-sex marriages in New York State, the judge declared the section unconstitutional and, in effect, ordered a redefinition of terms in the statute. The words "husband," "wife," "groom" and "bride" in relevant sections of the Domestic Relations Law "shall be construed to mean 'spouse,"' the judge wrote, and "all personal pronouns...shall be construed to apply equally to either men or women."
Mathew Staver, president of Liberty Counsel, an Orlando, Fla., group opposing gay marriage, said he was "disappointed" by the decision. "Redefinition of a law's terms is for the legislature to do, not for a judge. She's an activist judge legislating from the bench."
In her decision, Ling-Cohan cited and relied on rulings from the last century that banned and then permitted interracial marriages. The judge noted that one plaintiff, Curtis Woolbright, is the son of an interracial couple who moved to California in 1966 to marry. California then was the only state whose courts had ruled that interracial marriage prohibitions were unconstitutional. Some courts, Ling-Cohan wrote, "rejected the rights of adults to choose their marital partners based on outmoded prejudices that are now recognized as illegitimate grounds for government action." (AP)
*************************************
Belgium is still my number one destination for my honeymoon, but it's nice to know I have another choice of travel destination available to me now.
Thursday, February 03, 2005

HUH...

Sharon Galvez, the cocktail waitress from the Las Vegas leg of the American Idol tryouts, and whom the judges commented on her good voice in spite of her "weathered" apperance, was apparently an original member of Smokey Mountain, during the Paraiso-era.

That's......... kinda sad, actually.


Wednesday, February 02, 2005

GOD GIVES YOU WHAT YOU NEED, NOT WHAT YOU WANT

For the past week, I've been out several times with the Niccy Chiccy, one of my dearest fag hags; who is back from Brisbane for a vacation in the Philippines. She's set to ge back to Australia by the end of the month, so we've been making the most of our time by going to Saguijo (twice), Malate, 6Underground, Bizu and Chili's in Greenbelt. Just a fabulous blur of eating, drinking, talking and laughing.

And Nic is Hot too. It would bug me if I didn't absolutely adore her, actually. EVERY place we have been to, she has been hit on by guys. She swears that she doesn't know why this is the case, and I dunno if she's being either fake-modest or truly unaware, but all one has to do is look at her, and if you are a straight normal, red-blooded male, she will definitely catch your attention.

It's been theorized by the both of us that she may be cramping my style, actually; last saturday when we went to Greenbelt in an attempt to go guy-watching, we came up empty. It's possible that if any gay fellows DO cross our path, they might have thought that we were a couple and not a fag-and-hag combo, thus inadvertently slipping me through their gaydar.

It's been documented at least once; that same night when we went to Saguijo, apparently someone was asking around for Nic's status, and was inquiring as to whether or not I was her boyfriend. Naturally, both of us found this hilarious.

I guess I should take it as a complement that people think I look good enough to "match" Nic as her boyfriend, and not her geeky platonic male friend, (tee hee). Guyhunting or no however, it's been a total blast going out with her the past few weeks and I hope to get a few more chances to do so before she leaves.

But not tomorrow though. Tomorrow is set aside for the Poetess, who I have not seen in months, and I am so dearly looking forwrds to seeing her again. We're set to watch Elektra at Glorietta 4 (I know that it bombed in the US, but I don't care, am a huge Alias & Jennifer Garner fan) There's so much we have to catch up on, and I literally do not know a thing about what's been going on with her. She is, like Nic, yet another Hottie that men chase around, and a girl that I could have only dreamed about going out with back as an adolescent.

It's funny really: Back in high school or even college, when I was dateless and confused, my social life (what little of it there was) consisted of me hanging out with my guy friends. I yearned and dreamed to hang out and be friends with girls, who at the time were like an alien species to me.

Now, I find the tables have turned. I have tons of female friends; GOOD ones, and going out and have a fabulous time with a fabulous girl is the easiest thing in the world for me. (It's the GUYS that I have a drought with right now, but quebs!) Back when I was a teenager, I dreamed about possessing the appeal, the confidence to talk to women, having that closeness. And now, I actually DO, just not in the way I was expecting.

Life's funny that way.



COMPLEXION CONDITION

My skin, which has always been problematic, has been in a "good" phase for more than a week now; almost completely clear with nary a blemish. For me, this is a big thing. As I almost always have zits either starting to pop or dying down, often a combination of both. But for now, my skin is smooth, clean & clear.

So of COURSE we have no gigs, major video shoots or pictorials, or a simple date for me even. You can bet that when any one of the aforementioned is set to occur, a zit will once again start to make its nasty little appearance. Irony and my skin know each other quite well. But as for now, everything's looking good.

Screw this. Am taking advantage of it and am going to see Bath House in Galleria tonight. Maybe someone cute will see me.



NUNINUNINUNINU...

Nothing going on right now... no gigs yet *sigh* as the nearest one is still on the 12th (which is, everything pushes through, promises to be a fun day as we are tentatively scheduled to play 3 gigs in one day, wooohah!).

I hope that SilentSanct gets a slot in the UP Fair, which is coming up this month. I realize that I am no longer a UP virgin having played in Bahay ng Alumni, but that gig was so rushed and so compressed I didn't really savor it. Plus, there's something to be said about playing in the UP Sunken Garden. It's just like one of those places where you HAVE to play, if you're in a band. The rest of my bandmates have already done UP Fair last year, I'm just hoping I get the same chance.

Any UP concert organizers out there reading this, or know someone who is one? How about throwing a plug for SilentSanct into the band lineup for us?

I miss playing. We haven't even had a practice this week because the rest of the band has been busy, and recording has also been put into a hiatus.

Just nothing of notes is going on in life right now. Argh. The tedium is starting to get to me.

I need something (good) to happen.